The Main Drama
Sorry I didn't get everyone, but here are a few groups from that rainy rehearsal day.
I'm sketchy on who's who when they're wet, too, so bear with me!
---

Sabrina weeps and Rachel holds her lame leg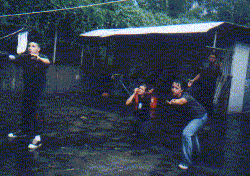 Jesse, as the Ragman (in the back) comes upon his suffering creation: blind Dave, weeping Hannah, and lame Natalie

Ragman Matt stands triumphant after saving Leah Anne, Courtney? and someone else
---
Main Photo Page
Outings
China
The People
More Wierd Shots
The Main Drama
Misc.
---
Back to Hong Kong
Home